American Classic Wheels and Parts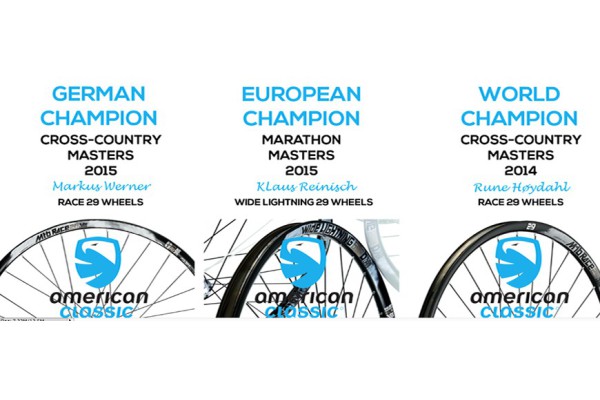 AC tubeless wheels take rim technology to the next level. Our mountain bikers
are successfully riding and racing tubeless, and now this innovation is available
for our AC road riders. Our tubeless wheels are set up with a base layer of AC
fiber tape covering the spoke holes and two layers of AC honey colored tape to
seal the rim. Next, install tubeless ready clincher tires and pump liquid sealant
into the system through our proven AC valves. The liquid sealant replaces the
conventional tube.


You may ask how our tubeless system works. Bill Shook designed the rim with
a bead barb running along the edge of the bead shelf. When installed, the tire
firmly pops into position over the bead barb. The tire bead centers and tightly
grips the circumference of the rim creating a sealed environment to hold the
liquid sealant without burping.
The number one reason to run tubeless wheels is to avoid flat tires. In the
event of a puncture, the sealant quickly fills and closes small holes in the tire
preventing flats caused by glass, metal and other debris. Pinch flats can not
occur as the tube is not part of the system.
Our tubeless system is about speed. It lowers wheel weight at the extreme outer
edge of the rim resulting in lower rolling resistance and better performance.
In a traditional clincher set up, the tire and tube interface moves as the wheel
rolls, creating friction and energy loss. With the AC tubeless set up, there
is no frictional energy loss between the tire and tube because the tube is
gone. Liquid sealant is lighter than a tube. You can ride lighter weight tires with
our tubeless system because you don't have to use tires made with heavy,
inflexible puncture layers. Overall, our tubeless system is lighter and the wheel
will spin up faster with less rider energy output. And the best part is flat tires
are past history